Pension facilities

It is entirely up to you how you will spend your time in HolidayPark Mlázovy - whether you will relax or spend your time actively. We offer a wide range of indoor and outdoor fun activities so that you will never be at a loss what to do:

• giant chess, hand-carved from linden-wood
• draughts, hand-carved from linden-wood
• giant Ludo for up to six players
• electronic darts
• table tennis table with paddles campfire place
• sheltered bowling alley with wooden skittles in the park
• sportsground for ball games
• outdoor children´s playground with a sandbox
• indoor children´s play area with a slide and assortment of toys
• natural-looking paddling and swimming pool (for our guests only)
• Segway rides (extra charge)
• campfireplace
• barbecue set on request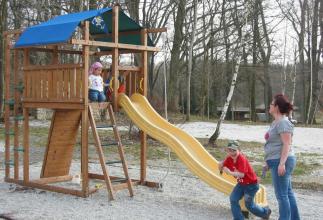 We provide a volleyball, a football, a volleyball net, badminton sets, petangue sets, bowling skittle sets and more.

This area has a lot to offer. Click here for more local attractions and fun tips in and around Mlázovy. These include horseback riding trips in the nearby ranch, live music and dance performances in the western-style restaurant, an enclosure with fallow deer and more. The nearby town Kolinec (2 km) boasts a newly-renovated swimming pool and tennis courts.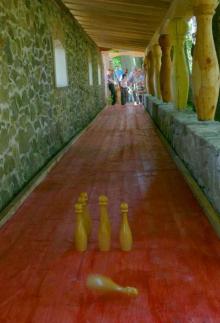 If you want to do something off the beaten path, check out Offpark, Sušice. This adventure provider offers a range of outdoor activities including high rope courses and off-road scooter rides. For more information, click here.